Why use plot-IT?
Est since 1965
Group turnover - £15 million
5 UK offices with over 100 staff
HP Designjet Warranty Provider
Autodesk Gold reseller
Canon Elite Partner
Stratasys - Gold Partner
Best A1 Plotter - Our Top Picks!

Here is our personal round up of our top A1 & A2 wide-format printers & plotters for the reproduction of building plans, construction & engineering drawings along with architectural renders.
Starting from the top our first 3 currently includes the 2 lowest priced products on the market for their popularity including our Highly Rated EPSON SC-T2100 in No 1 spot with very strong features and its budget price along with segment rival the HP DesignJet T230 - which is not only well priced but also has some hefty Green benefits & as enters our table in 2nd position.
Talking of green products the more costly but Environmentally Friendly & Style conscious "HP DesignJet STUDIO" also finishes highly in our report.
Our No 2 The Canon imagePROGRAF TM-200 is definitely not be ignored, with a higher capital cost reflecting its robust build quality but additional investment cost are quickly recouped through lower running cost.....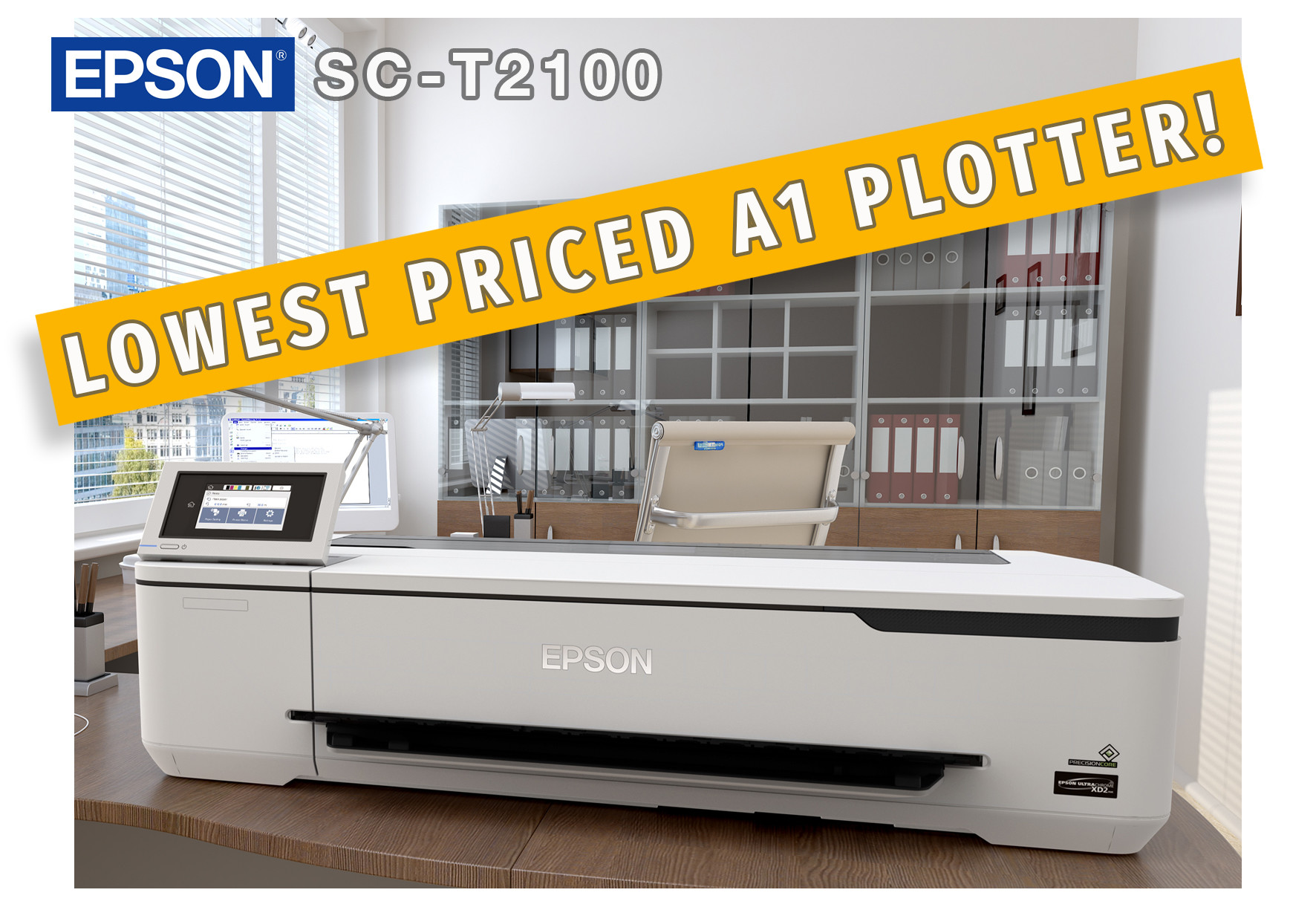 No 1 - Epson SC-T2100 A1 Plotter | For the First time our report features an EPSON plotter in the top spot and it is the lowest priced A1 printer in the market, not only that critically it offers Light Fast and Water resistant inks in all colours so it's hardy prints can easily take the wear and tear of busy site work in all weathers, this ink set allows it to step beyond CAD drawings allowing for printing of posters, infographics, site signage and renders for long term display. We don't suggest it as an everyday graphics printer as there are other choices but it's great as a CAD A1 A2 printer with occasional graphics or even photos. With strong White and Black Styling it also looks good on a desktop or even on it's optional stand plus you can add the option of an A3 / A4 sheet feeder at very low cost.
Given both the price point and functionality it is a hugely popular choice for users. Category - Entry Level 1-2 User Work Group | Expect to pay around £480 | Ink Cost: Black 65p CMY - 71p Per ML
No 2 - The Canon imagePROGRAF TM-200 | Our headline of "Best Value" is an understatement & driven by it's relatively low cost considering it comes with a stand & basket but most importantly it's cost of ink per ML is lower than all other top 5 rivals, additionally it also ships with more free ink than all other options - in fact in real term value £215 of ink is included & when this is taken in to account early cost are lower. Finally, it's the only plotter in our top 5 which can take longer better value for money 110 meter rolls of paper - due to it being faster at printing than most in real situations.
Canon redefined their entry level platform with the TM-200 they made this unit smaller than the previous model & at the same time made significant changes to sound levels, the TM-200 is exceptionally quiet. With water resistant & light proof inks you can extend your jobs, not only print construction drawings but also posters & site signage. Aimed at busier work-groups who want A1 & A2 plots from the roll feed, options wise you can add a scanner making this printer a Copy / Scan MFP solution as well -
Category - Entry Level Small Work Groups | Expect to pay around £1250 or £2200 with Scanner making it an MFD with copying | Ink Cost: Black + CMY - 33p Per ML (LOWEST PRICED ink for entry level plotters)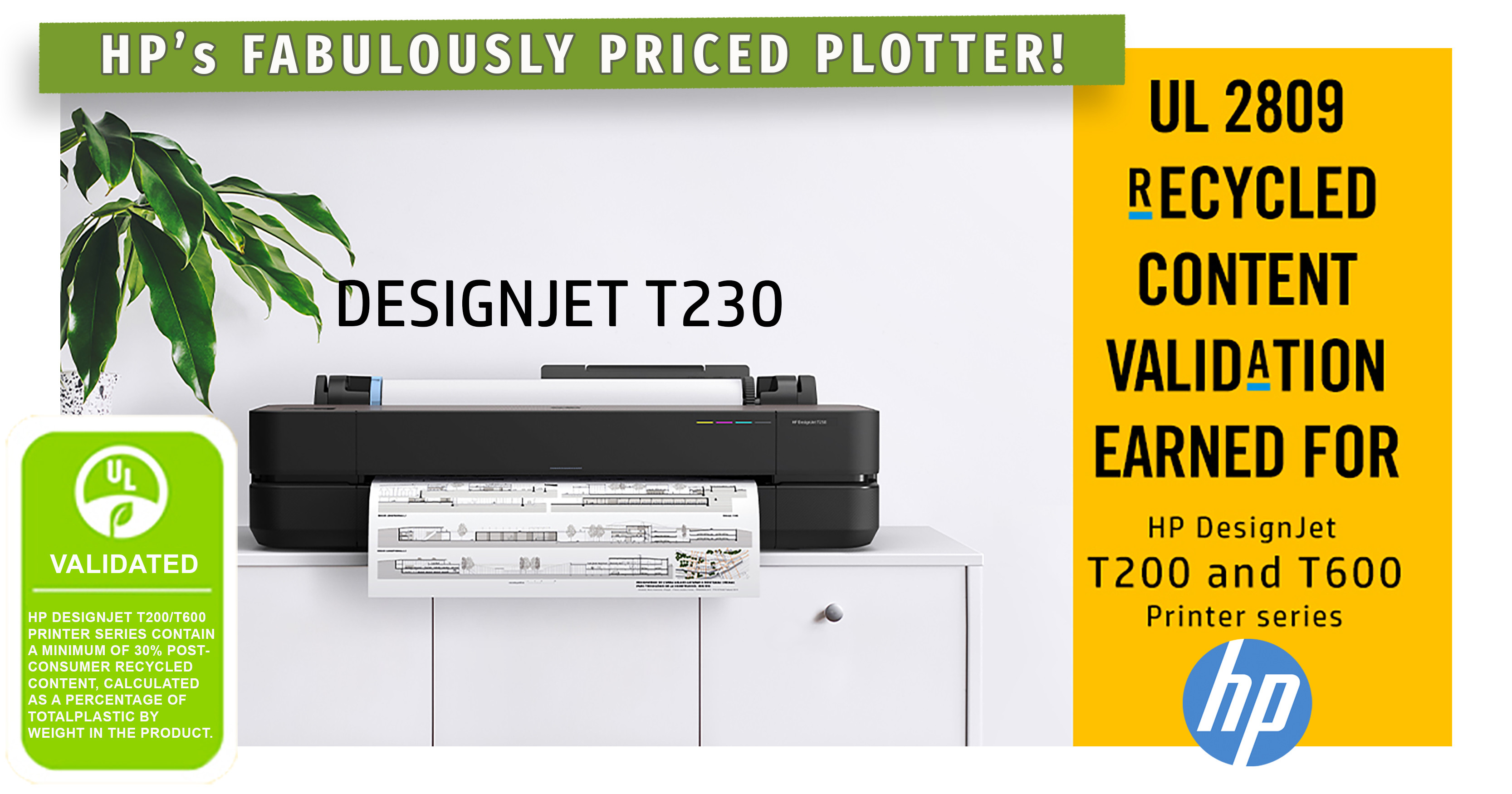 No 3 - HP DesignJet T230
The HP DesignJet T200 series features 2 desktop models, the T250 & the Lower priced T230 which is currently our Number 1 Pick. Directly replacing the HP T120 which held the top position for 5 years running the T230 comes from a sound platform of printers that have dominated the AEC space for 25 years.
This model has proven hugely popular since it's Q4 2020 launch not only for it's well priced position, innovative free print software but also for the thoughtful design from HP which features the recently awarded UL Validation Mark underlining that 30% of plastic components are from recycled sources.
With a compact design you can sit the DesignJet T230 on it's optional stand & basket, a bench, plan chest or even on a suitable sturdy wall shelf & with reliable wi-fi connectivity you need only to worry about the power cable. As with all products the roll feed is standard and takes up to 50 meter A1 / A2 paper rolls but optional extras include a handy cassette tray for either A3 or A4 sheets, you can even finish the look off by adding an optional dust cover to protect your media.
TIP: If you're buying an extended warranty then opt for the T250 as warranty extensions are at lower cost and therefore its better value + the T250 is 5 seconds quicker per A1
Category - Entry Level Small Work Groups | Expect to Pay around £570 | Ink Cost: Black 55p CMY - 60p Per ML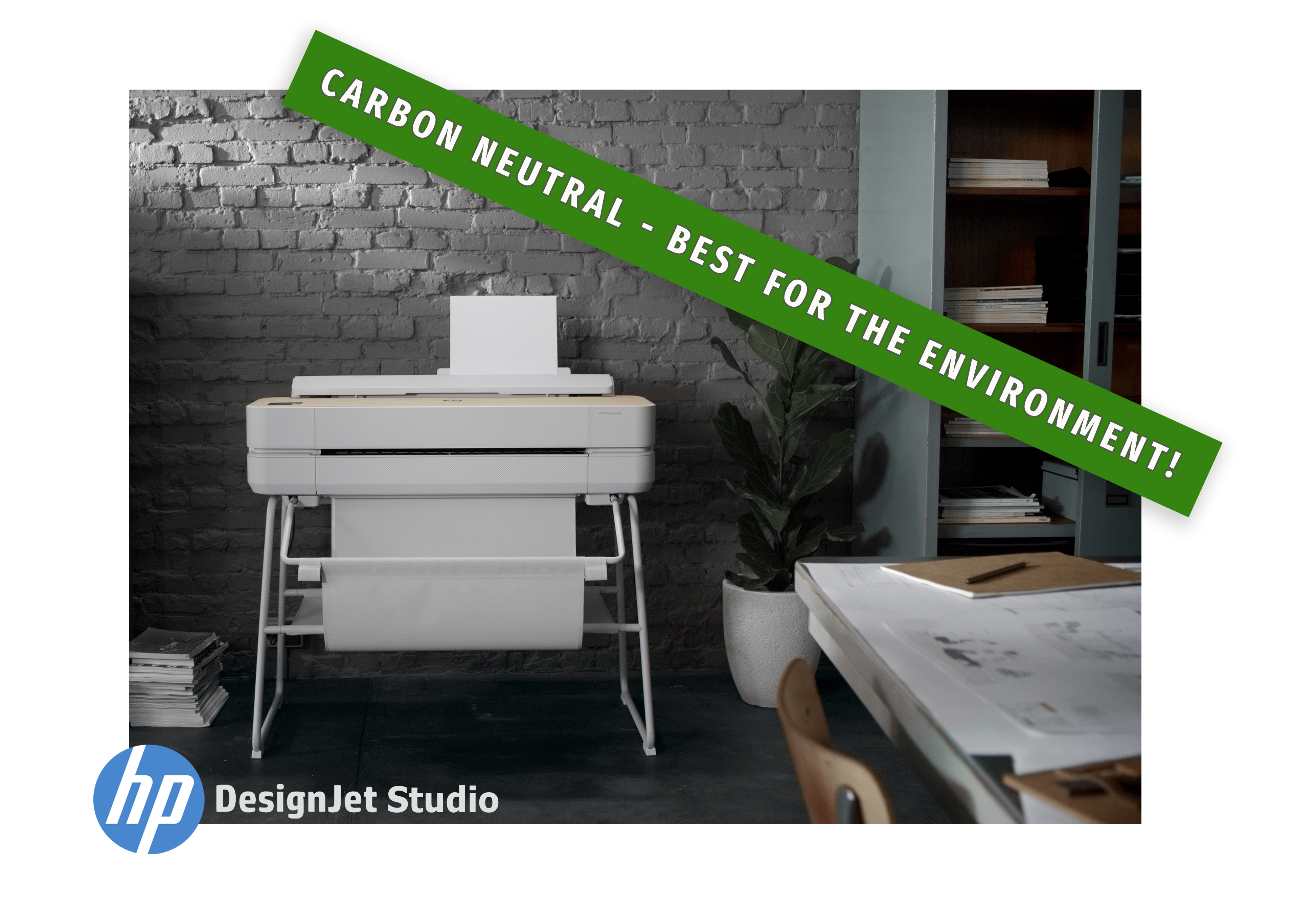 No 4 - HP DesignJet Studio Plotter -This eponymously named plotter is the world's first Net Carbon Neutral A1 CAD Drawing Printer. Designed for style conscious design studios with a thoughtful green led design coupled with an emphasis of styling pointing to contemporary workplace settings, yet underlined by functionality.
DesignJet Studio is easy to use with helpful software applications to streamline printing with features such as automated media switching so A1 & A2 plots can be automatically defaulted to the roll or A3 can default to the in-built 50 sheet feed - given you all the large format media sizes you could possibly need for Architectural Drawings. It is more expensive than alternatives but it does tick the box for those who care about their carbon footprint & gives a viable option to meet your goals.
We love this product - It's our "number 1" for it's Green credentials, Great looks and how easy it is use. Choose between a wood effect top or Metal dependent on your office, available in both A1 or A0.
Category - Entry Level Small Work Groups | Expect to Pay from around £1250 | Ink Cost: Black 55p CMY - 60p Per ML
Looking for the Best A0 Plotter Review - Read the Report Here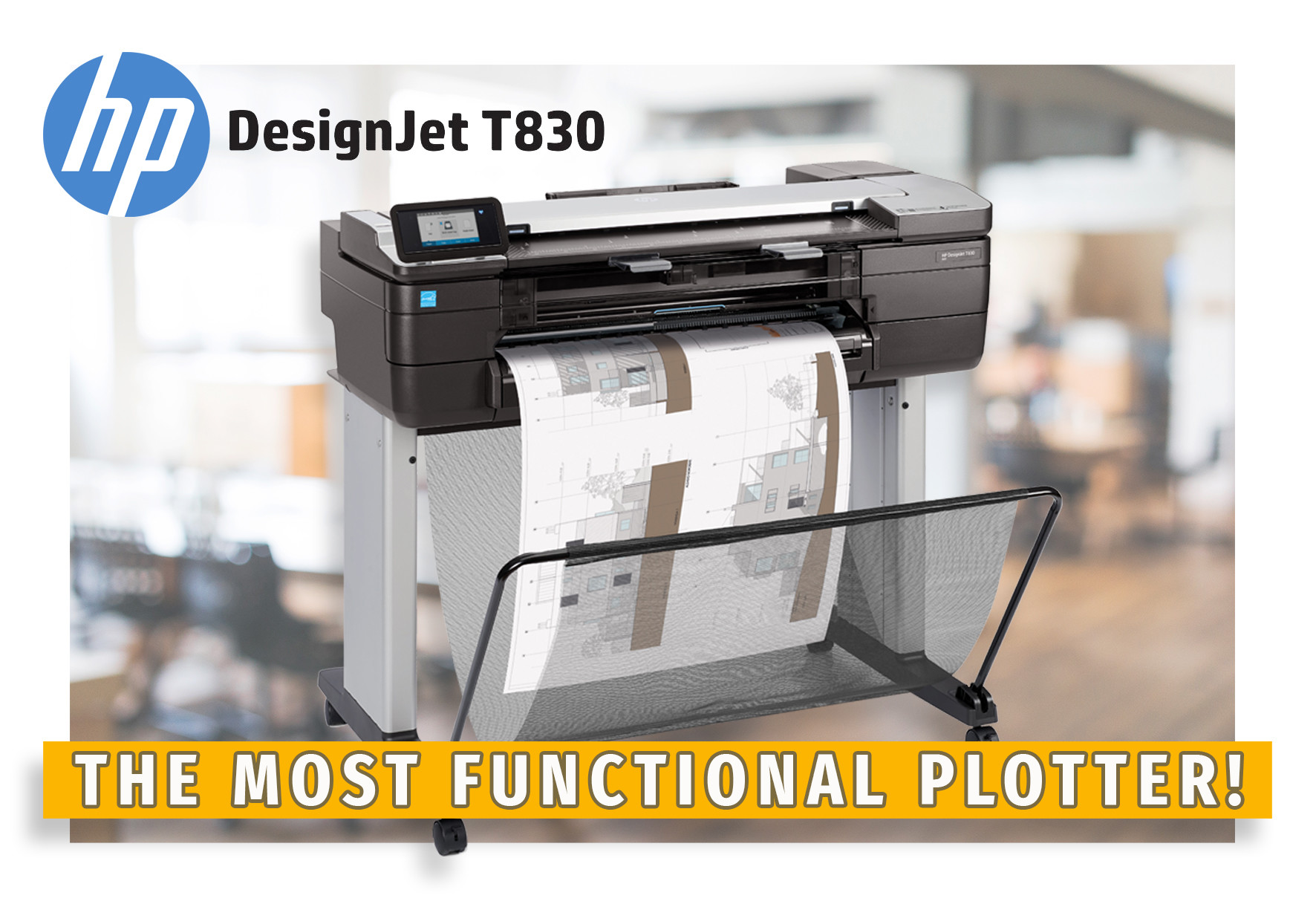 No 5 | HP DesignJet T830 24" MFP | Absolutely Brilliant for those who wish to not only print construction drawings but to copy & scan as well.
This all-in-one compact plotter offers roll & a sheet feed tray for A3 or A4. Ideal for those small volume users who need a bit more flexibility and who want the benefit of bigger more economical inks as the T830 supports 130ML and even 300ML.
The DesignJet T830 model is also available in A0 size and this the A1 variant is by far the markets most popular A1 MFP, it's exceptionally robust and comes with a decent software suite -
Category - Entry Level 1-5 Person Work Groups | Expect to pay around £1600 | Ink Cost: Black + CMY - 48p Per ML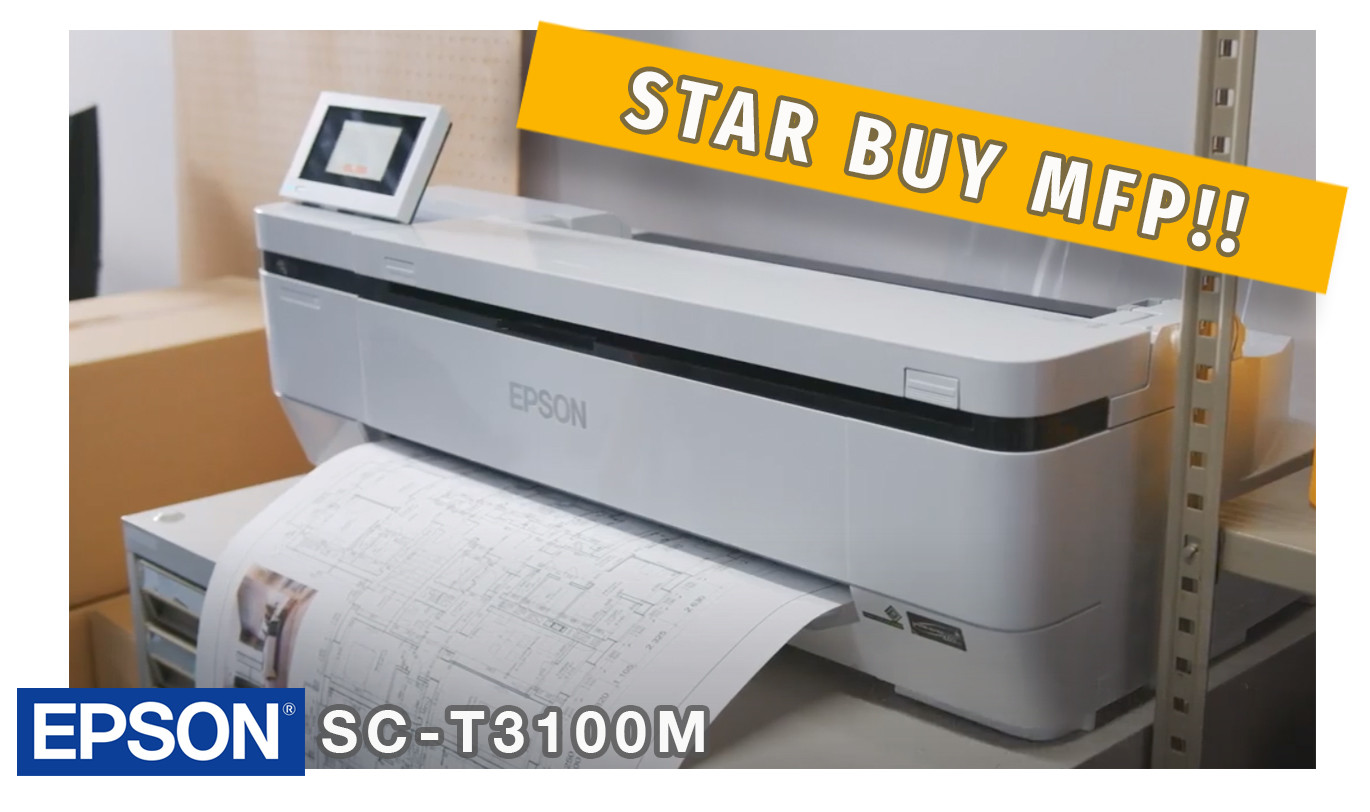 No 6 | EPSON SC-T3100 M MFP | Launched in Feb 21 this new variant of the highly successful and popular SC-T31 series brings users 3-in-1 multi-functional capability with the addition of a 600dpi scanner you can copy, print and scan all from a neat compact footprint. Scan direct to Copy, USB, Network Destination and even Email making this the most functional A1 unit in the market. It didn't knock the T830 A1 out of 4th position as running cost are higher but for light users it's a great feature rich choice, if you're tight on space & want to bench mount then it's the one to choose as the stand is optional. Category - Entry Level 1-2 User Work Group | Expect to pay around £1300 (without stand) | Ink Cost: Black 65p CMY - 71p Per ML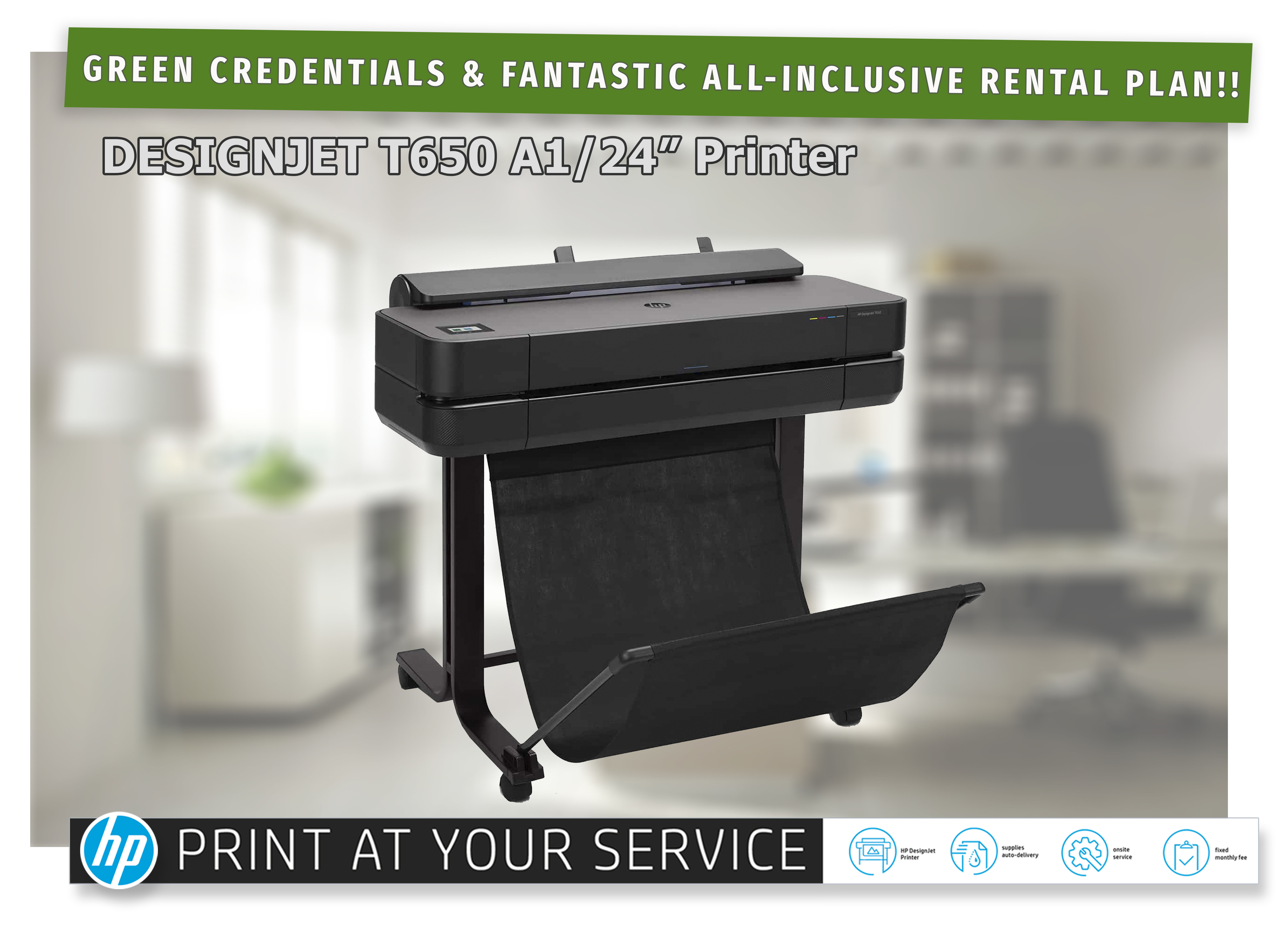 No 7 | HP DesignJet T630 T650 | Definitely one not to be ignored! You can be forgiven for thinking the T630 & T650 looks like our "number 1" choice and even "number 3" the STUDIO printer, it is 100% based on the same platform.
Offering the same Green UL Validation mark as the T230 with 30% recycled plastic content the T600 series comes with the stand straight out of the box rather than being an option & with extra memory & quicker processing it can support more than just a couple of users whilst it is still aimed at low volume environments it does offer users a quick plotting process. The T650 unlike the T630 is fully loaded with stand, sheet tray and dust cover and it also comes with 2 year warranty, it's our preferred option (if you're not considering an HP STUDIO)
With HP's easy to use bundled software HP CLICK you can print on the go and easily from the desktop, submitting a range of files types including PDF, for MAC & windows users this offers a driverless print scenario.
It should be noted that unlike T230 / T250 that the T600 Series is available in both A1 or A0 variants.
Tip: Consider HP's Print @ Your service rental plan is fantastic, it includes, machine, ink, print head & service giving you controlled cost and much lower running cost HP P@YS Subscription service
Category - Entry Level 1- 4 User Work Group | Expect to Pay from around £850 | Ink Cost: Black 55p CMY - 60p Per ML - However Ink cost is considerably reduced via the HP P@YS Subscription service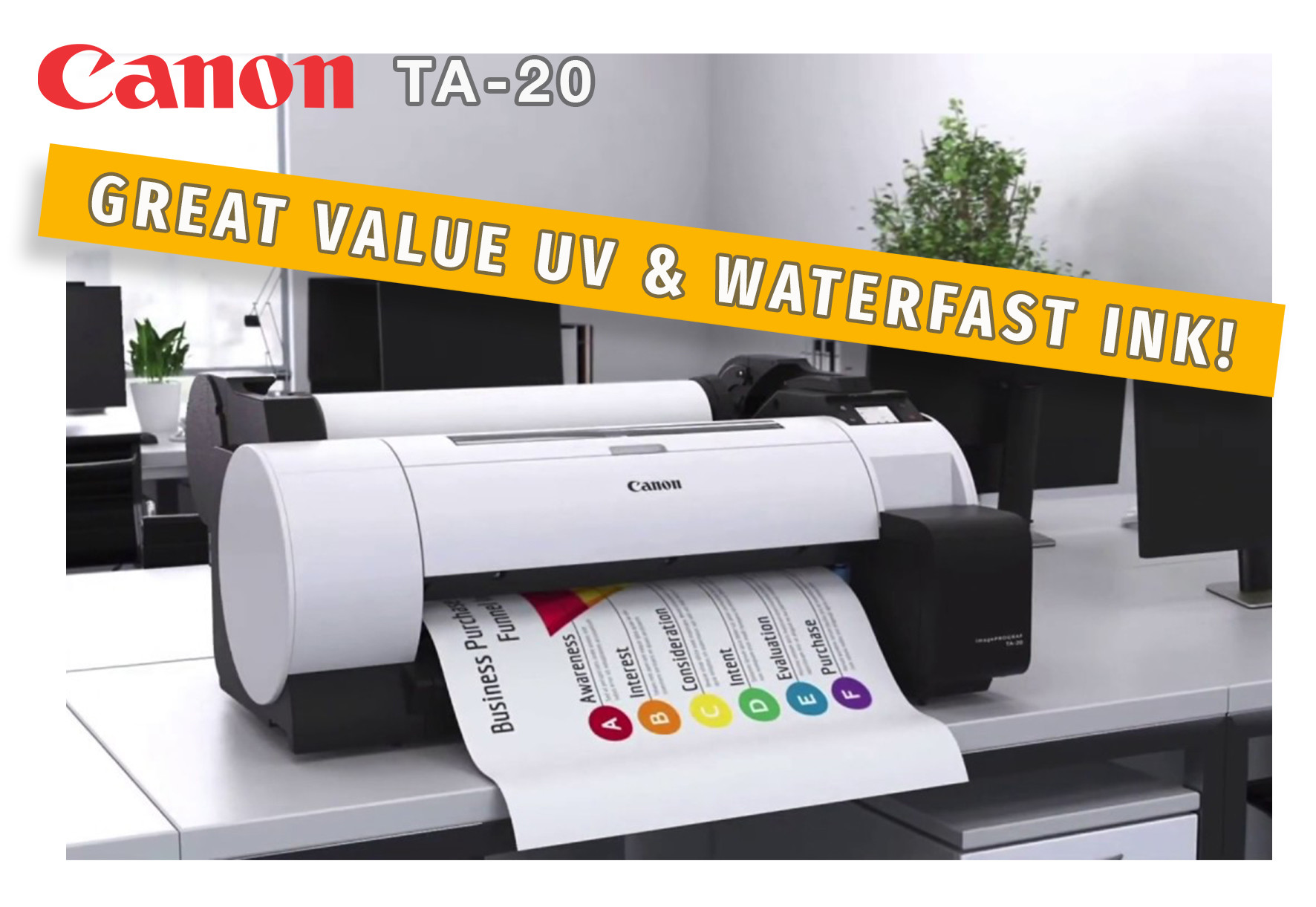 No 8 | Canon TA-20 | The TA-20 is Canon's reaction to the changing landscape at this end of the market and reduced their price giving users the benefit of Light Fast Water resistant ink at the low end, given Canon build the most robust machines in the market it is good value for money and is likely to give a longer hardware lifespan.
To keep upfront cost down the stand is an optional extra, so with this device you can look to bench mount it but dimensionally it is bigger than other desktop models so make sure of your measurements. Like it's big brother our No 3 the TM-200 it also has the same noise reducing engineering and it too can take longer length larger media rolls. The TM-200 does come with the stand as standard and you'll notice the ink is better priced so if you're thinking you don't want to bench mount and are going for the stand then pick the TM-200 instead.
Category - Entry Level 1-2 User Work Group | Expect to pay under £700 | Ink Cost: Black + CMY - 65p Per ML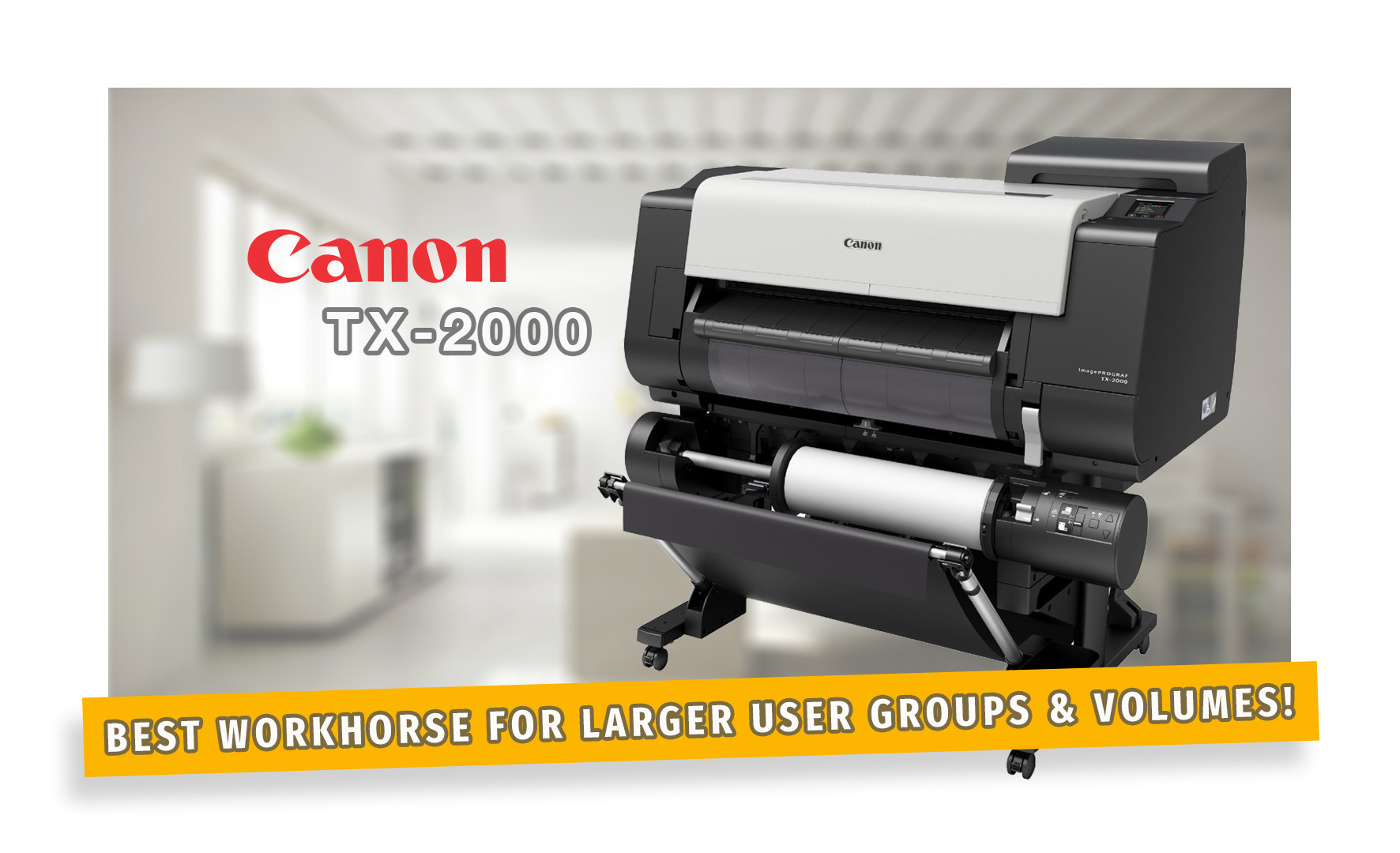 No 8 - Canon TX-2100 | The TX-2100 is the most productive workhorse in our line up, it should have scored higher but given capital cost it's often wrongly ignored by customers and our report does take in to account popularity. Replacing the TX-2000 in March 2021 bring even more productivity and increased features.
Why is it so productive? Firstly, it can take up to a 175 meter roll of A1 paper, Secondly with the optional dual roll feed you can add a second roll of media or if you're doing very long plots this can turn into a take up reel, so great for civils projects or long banners. Staying with productivity you can use huge 700ML inks that's more than twice the size of any A1 plotter and it really does drop the price of ink down + you can change ink without stopping your prints!
Category - Mid-Volume 1-10 Work Group | Expect to pay just over £2,000 for the basic model | Ink from under 30p per ML
Notes: prices are indicative only and are correct when this article was published, exchange rates may change the typical UK price and are given for illustration purposes only. Please check individual product pages for up to date pricing & offers.
Ink pricing is based on the best value ink cartridges for each model such as lower cost per ML High capacity units or multi-packs, for example the HP Studio and T230 product are priced on XL 80ML Black single pack and the popular value for money single colour 3 cartridge multi-packs. Some machines are more ink efficient than others so it is not always the case that a like for like comparison of cost per ML is a fair representation of running cost, however pricing is published as a guide to what you can expect to pay for a cartridge.
We have based our results on both the popularity of products purchased by our customers, size of market from manufacturers own data as well as our individual opinion.
Author: Matthew Perkins | Last updated 13/01/2022 this page is updated when new products are launched or old units discontinued or when we see market changes / product enhancements.
Reason for last update: Increased UK market availability from Canon