Why use plot-IT?
Est since 1965
Group turnover - £15 million
5 UK offices with over 100 staff
HP Designjet Warranty Provider
Autodesk Gold reseller
Canon Elite Partner
Stratasys - Gold Partner
Best A0 Plotter - Our Top Picks
Here is our unbiased round up of our Top A0 Wide-Format plotters / printers for the reproduction of CAD Building Plans, Construction Drawings, Architectural Renders and Manufacturing Drawings.
We offer a subjective opinion on what is a broad category with many options so we've tried to make our report as clear as possible, however there will be elements in your own workflow that need further consideration - we'd always encourage you to ask for our recommendation based on your personal requirements especially if you have a large team printing.
What we will say is that you may note all printers are for the technical applications listed above and all offer a 4-6 colour ink system, you will find other products on our site with 8-12 cartridge ink systems these are for photo & art applications and we would rarely suggest these for the CAD user market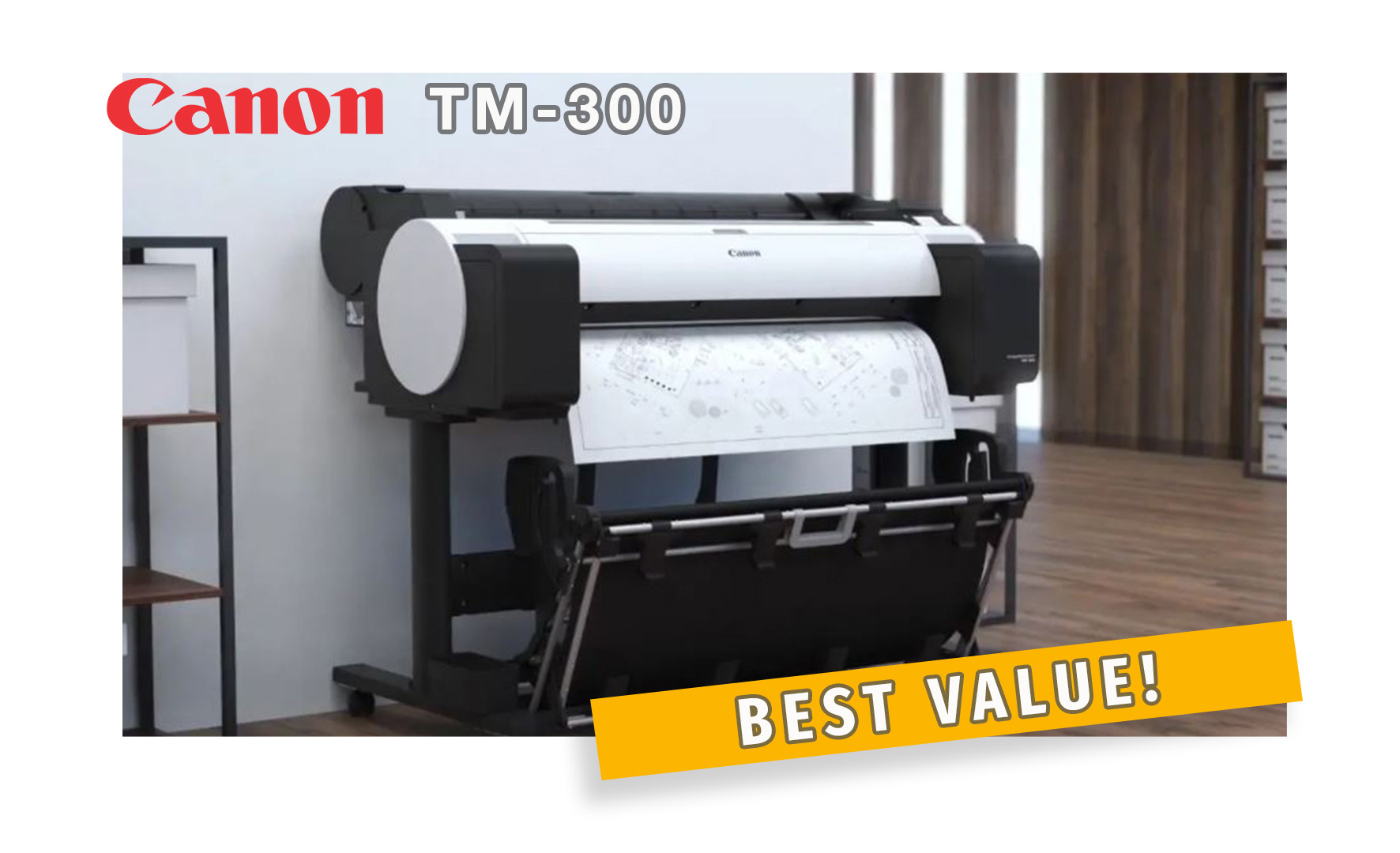 No 1 - Our top spot pick was a difficult one as there are some great choices in the budget end of the market but in the end we opted for the Canon imagePROGRAF TM-300 | It's not the cheapest in the line up but well priced large 300ML inks (or smaller 130ml option) make TCO over the printers life lower than alternatives. TM-300 features Wi-Fi, USB & Network connectivity. It is the quietest unit in the line up so good for open plan offices & small studios, It's also pretty compact with a nice neat footprint.
An online roll feed which can take longer 110 meter media rolls means less paper changes (in fact it can take upto 175 meter but as these can way 12-13 kilos they can be a more difficult to handle on this model , additionally you can add an optional scanner to make it an all-in-one MFP with copy & scan functions for no more than buying an off the shelf A0 scanner - a couple of handy brackets allows for top mounting so no extra space needed!
Designed for sub-contractors, SMB's & studios. Best thing about it is it's water resistant & light fast ink.
Category - Entry Level Small Work Groups | Expect to pay under £2,000 | Ink Cost: Black + CMY - 38p Per ML (LOWEST PRICED Ink for Entry Level - see TX or HP T16 for Mid volume)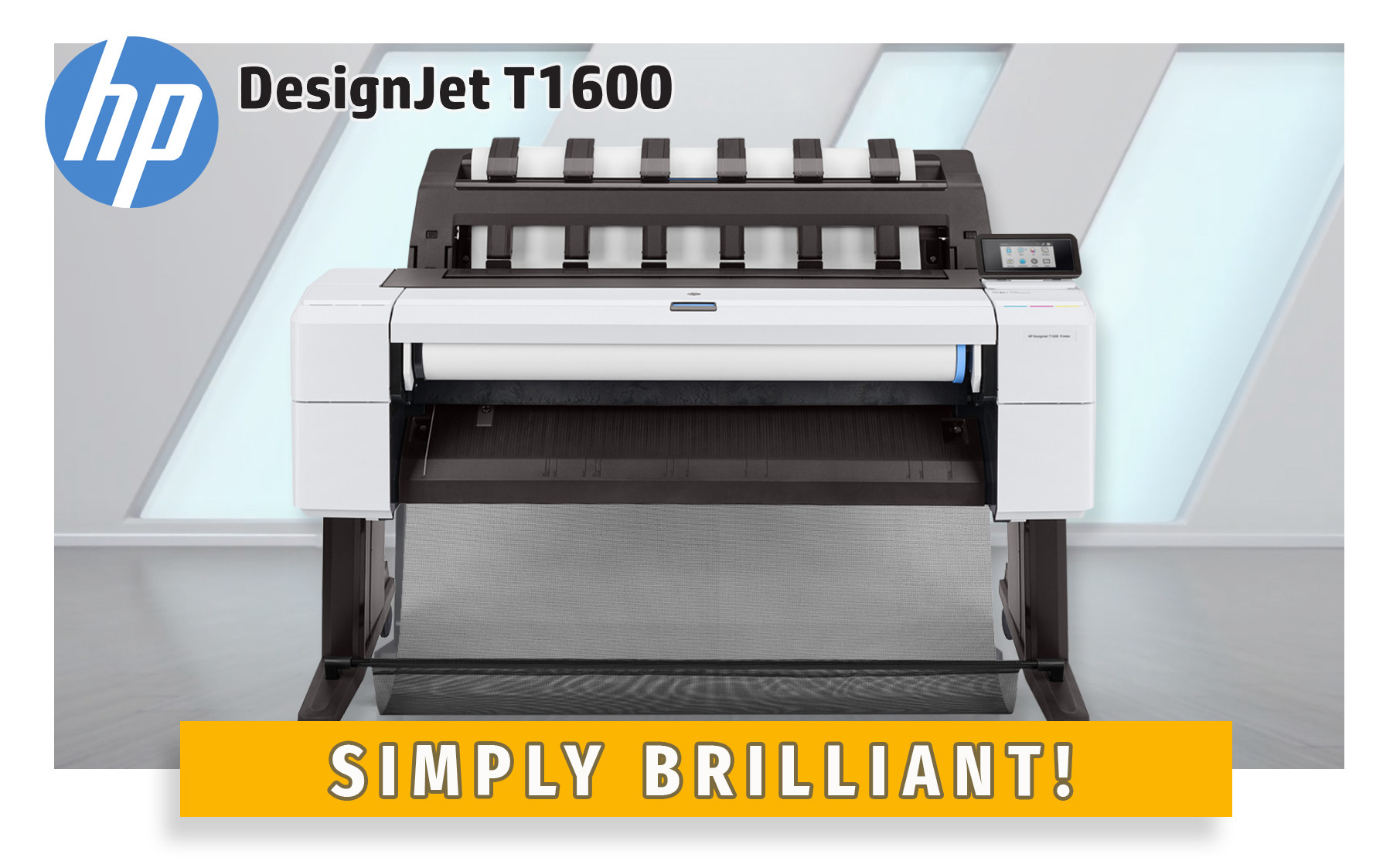 No 2 - The strapline says it all "Simply Brilliant"
There are 4 variants of the HP DesignJet T1600 Plotter We recommend your contacting us so we can go through the options, however what we will say is the top stacking of prints is a joy with no messy basket delivery, the ink system which contains both a pigment light fast water resistant black, a dye based black & a grey is ideal for architectural users who wish to reproduce building plans quickly and accurately, and ink is flexible with large value for money 300ML inks or for light users 130ML but not only that ask us about pay-as-you-go ink plans.
For IT managers T1600 & above deliver much increased security levels over any other market options with HDD erasure, white listing, PIN encryption and SIEM integration (need a security guide then do contact us)
Choose between a single or two roll device for all popular sizes and critically actual ADOBE Postscript not only for MAC users but also for Windows users who wish to submit batches of PDF construction drawings. This is the pick for our BEST HP A0 Plotter also consider the MFP Variant the HP T2600 Copy, print & Scan
Category - Medium to Large Work Groups | Expect to pay from upwards of £2,500 also available on a low cost contracted ink plan | *ink normally around 39p per ML but drops to 36p with contracted plan * This product is more ink efficient so like for like ink comparison not the same as others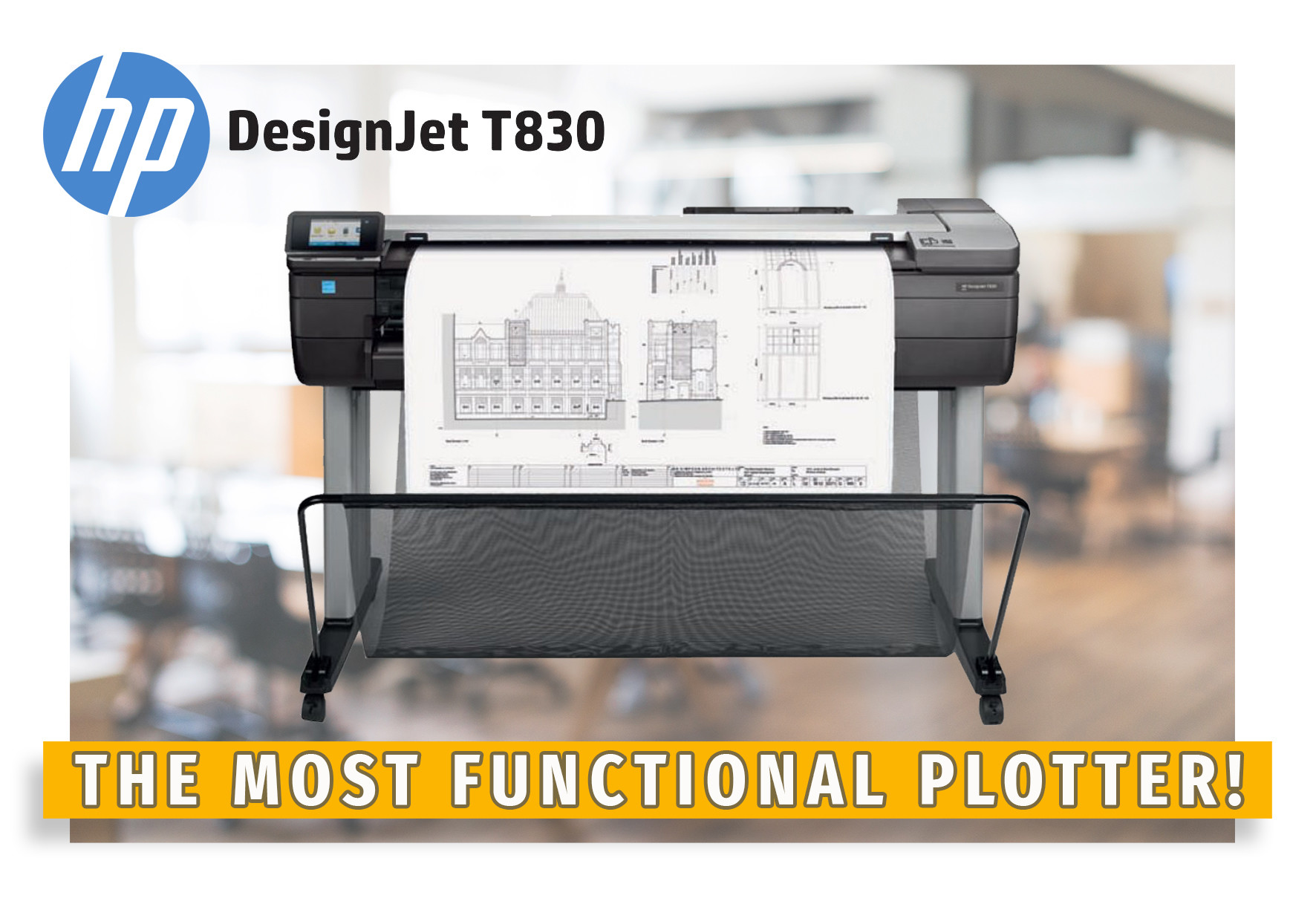 No 3 - The HP DesignJet T830 36" MFP | Strictly speaking the T830 shouldn't be in the line up as it's a low cost multi-functional unit (Print, Scan & Copy) but we simply can't ignore it's popularity with many customers choosing it over just a plotter due to the low additional price for these added functions.
Absolutely Brilliant for those who wish to not only print construction drawings but to copy & occasionally scan as well, it's not as functional as alternative MFP's such at the T2600 but it's good starting point for a user who's not had an MFP before.
This all-in-one compact plotter offers both A0/A1 roll & an A3/A4 sheet feed . Ideal for those small volume users who need a bit more flexibility with the added a benefit of 2 years warranty as standard.
Category - Entry Level Small Work Groups | Expect to pay around £3,000 but there are also generous trade-in allowances for your old printer plus this is also available with subscription, hardware service and *ink included! | Ink Cost: Black + CMY - 48p Per ML *average ink cost is lower with subscription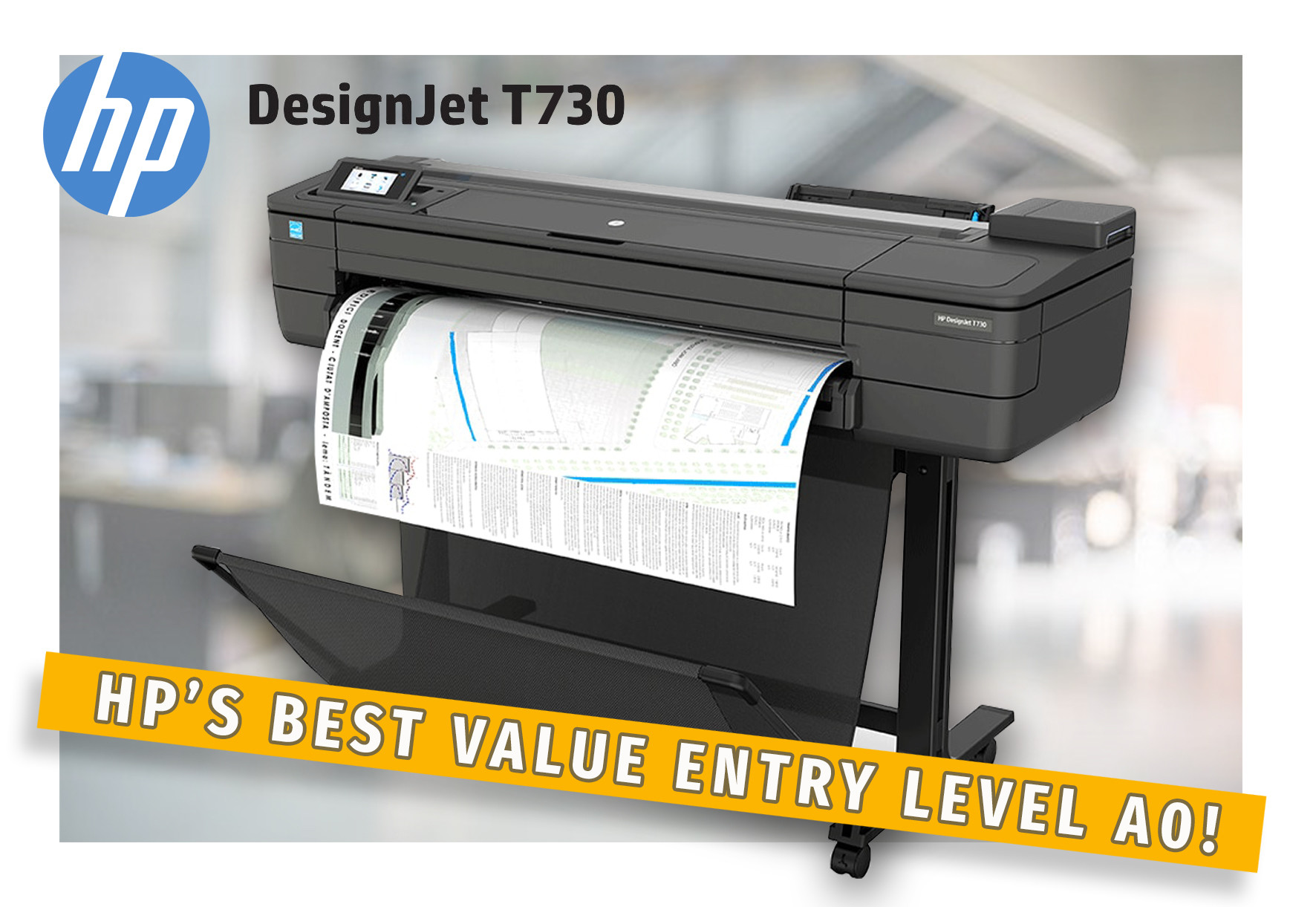 No 4 - HP DesignJet T730 | It may look like a T830 which it does as it's built on the same robust platform but T730 does not offer a scan or copy function - Regardless its the best value A0 plotter from HP.
Not as well priced it seems as a T630 or T650 but when you take TCO in to account the larger more economical ink tanks win every time, plus it's ships with more ink out of the box making it better value upfront - in fact in real terms less than the T600 series, hence the T600 series appearance further down our list. With T730 choose between 130ML or 300ML cartridges going forward.
Category - Entry Level Small Work Groups | Expect to Pay around £1600 even less if you have a trade-in plotter | Ink Cost: Black + CMY - 48p Per ML

Looking for the "Best A1 Plotter Review" - Read the comprehensive Report Here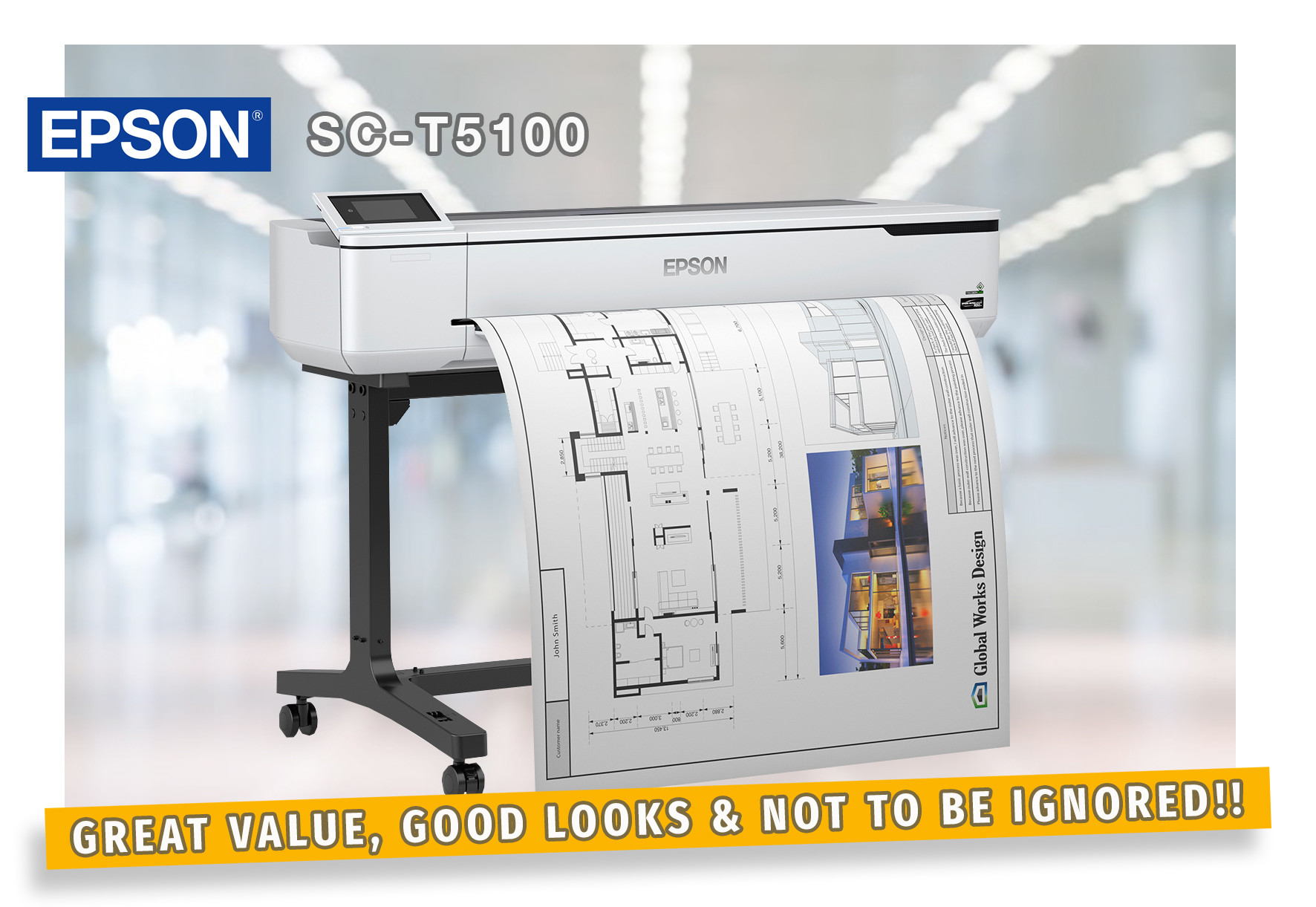 No 5 - EPSON Surecolor SC-T5100 | There are 3 versions of this device the SC-T5100 and the SC-T5100N which ships without a stand & the SC-T5100M which is an all in one MFP with copy & scan functions.
EPSON's first entry level A0 plotter, ordinarily we find TCO on EPSON units higher than we'd like, however as the unit ships with 2 year warranty which also covers the print head & as you have a choice of 26ML & 50ML inks it does look like a more attractive TCO than usual, it's also more attractive from a styling point of view than others with it's white design.
Inks like the Canon are water resistant & light fast.
Category - Entry Level 1-2 User Work Group | Expect to pay from under £1,400 for a standard version | Ink Cost: Black 65p CMY - 71p Per ML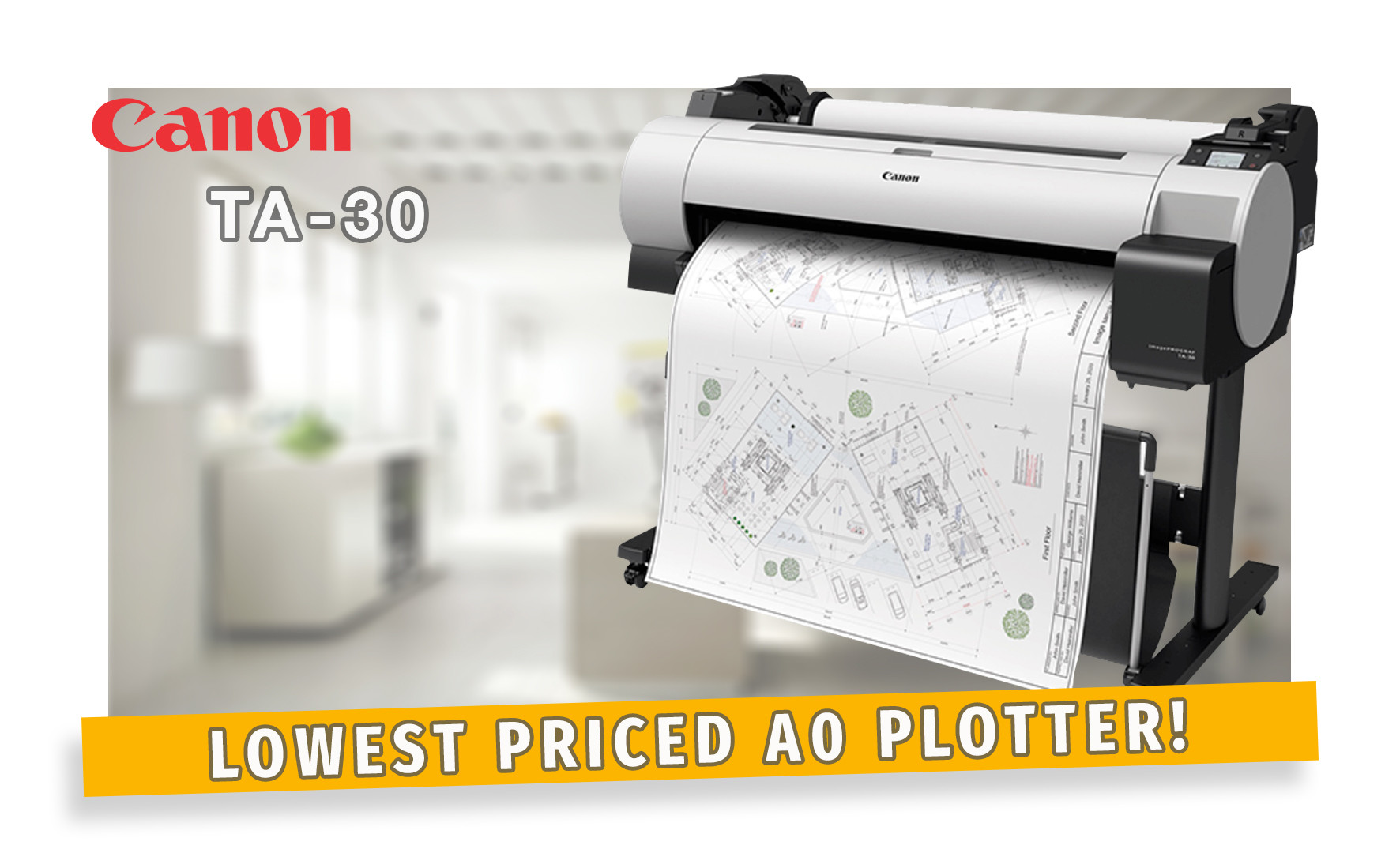 No 6 - Canon imagePROGRAF TA-30 | The TA-30 is built on the same quiet architecture as our No 1 choice. It's the best priced of all of our options and is aimed at lower volume environments with it's smaller 55ML inks, notably though it still can use larger / longer media rolls for less media changes and better priced choices.
We say it's our "Lowest Priced" as unlike the EPSON the imagePROGRAF TA-30 comes with the Stand & Basket included - if you're planning on purchasing an A0 this for us is an essential option.
TA-30 is a great choice for budget conscious buyers who wish to keep their capital cost down but still need an A0 device.
Category - Entry Level 1-2 User Work Group | Expect to pay under £1300 | Ink Cost: Black + CMY - 65p Per ML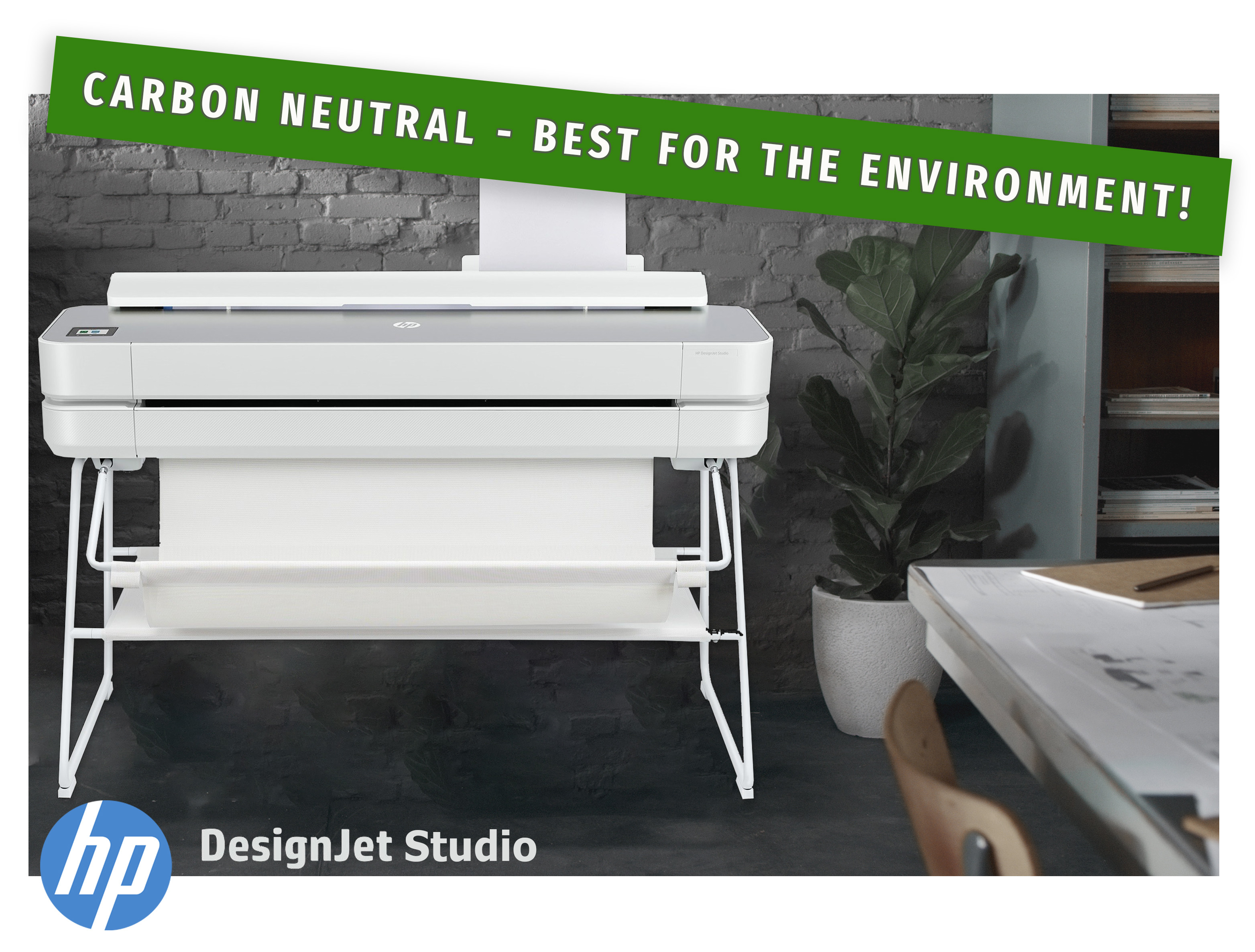 No 7 - The HP DesignJet STUDIO A0 | Great for environmentally conscious customers.
If you've already viewed our A1 plotter section then you'll spot that this printer in it's smaller format is our No1 choice. As most Architectural companies print in A1 then it's ideal but for A0 users who need more volume it doesn't score so highly as it's not the cheapest to run - that shouldn't detract for low volume users though as it's truly a great well thought out product.
This eponymously named plotter is the world's first "Net Carbon Neutral" A0 CAD Drawing Printer. Designed for style conscious Design Studios with a thoughtful green led design coupled with an emphasis of styling pointing to contemporary workplace settings, yet underlined by functionality.
DesignJet Studio is easy to use with helpful software applications to streamline printing with features such as automated media switching so A0 & A1 plots can be automatically defaulted to the roll or A3 can default to the in-built 50 sheet feed. It is more expensive than alternatives but it does tick the box for those who care about their carbon footprint & gives a viable option to meet your goals.
It's our "Number 1" for it's Green credentials, Choose between a wood effect top or Metal dependent on your office style, available in both A1 or A0.
Category - Entry Level Small Work Groups | Expect to Pay from around £1850 for A0 | Ink Cost: Black 55p CMY - 60p Per ML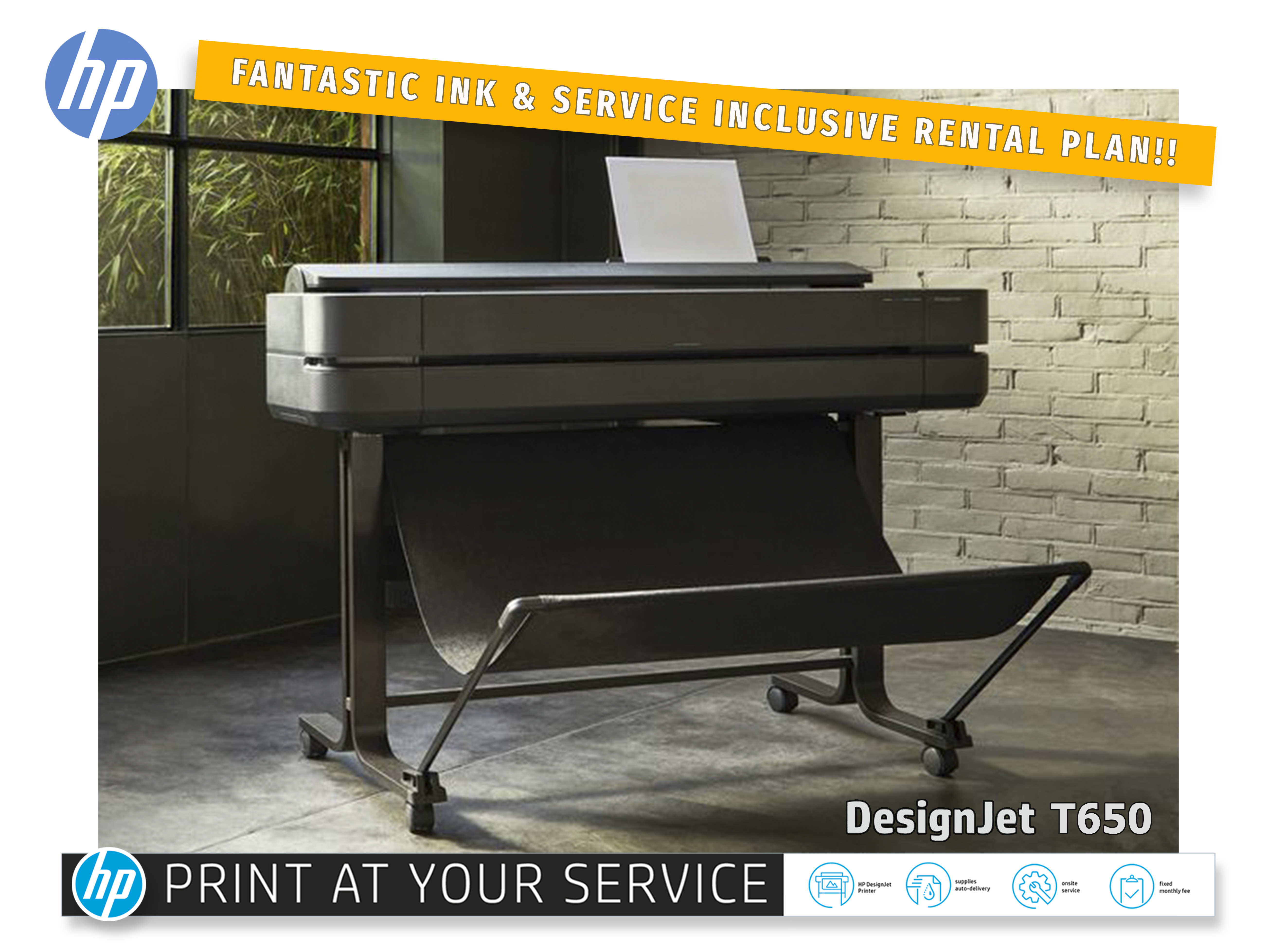 No 8 - HP DesignJet T630 T650 | OUR "NUMBER 1" CHOICE FOR RENTAL - if you're a low volume user & need to Rent an HP Plotter.
The T650 offers a fantastic subscription plan for users who need to print CAD drawings. The subscription plan includes machine hire, service and crucially ink delivered to your door step before you need it.
Plans start at 40 A1 (20 A0) per month and go up to 200 A1 (100 A0) but are flexible enough to add volume at peaks or roll unused volume over (T&C's apply) starting at £60 + VAT per month on a 3 year plan, to apply you need a co reg number and on-boarding is subject to credit checks.
The T630 36" is HP's lowest priced A0 plotter and is not to be ruled out if you simply want the lowest priced HP although as we said earlier our No 4 choice the T730 is the best value price wise but the T600 series has some Great Green credentials with the use of recycled plastics including ocean bound recovered plastics as part of HP's drive to a greener world - not net neutral like the STUDIO product but still aspirational and impressive.
Category - Entry Level Small Work Groups | Expect to pay under £1450 for a T630 or a T650 from as little as £60 per month | Ink Cost: Black 55p CMY - 60p Per ML but lower on subscription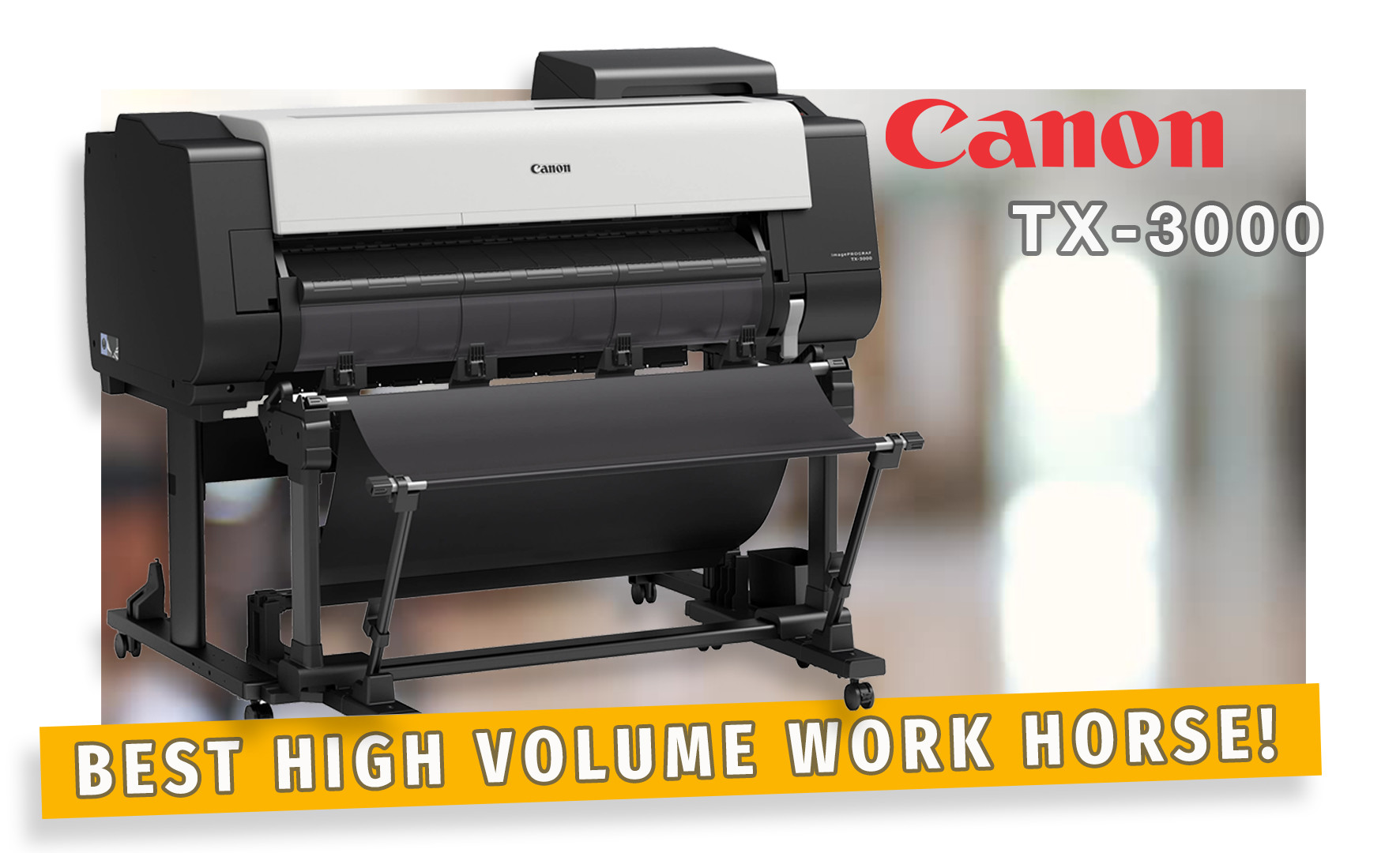 No 9 Canon TX-3000 | Simply put if you're looking at higher volumes, larger workgroups & a lower cost per print then the TX-3000 and the wider than A0+ print width TX-4000 should be your go to choice.
These are workhorses designed for quick processing and less downtime with larger 700ML inks (also 130ML or 300ML) and up to 2 rolls online providing almost 600 A1 prints before a paper change is needed. You can even add a scanner to make it an MFP and there are options for increased paper stacking as well.
We have installed 50+ of these units with a customer for the reproduction of civil engineering drawings, it's streamlined group workflow, they have more uptime across offices and their IT team manage the whole fleet remotely and easily - not only that they pay for ink after it's used by the ML so no need to buy cartridges, new units simply arrive before they're needed
Category - Medium to Large Work Groups | Expect to pay from around £3,000 for the basic model | Ink from under 30p per ML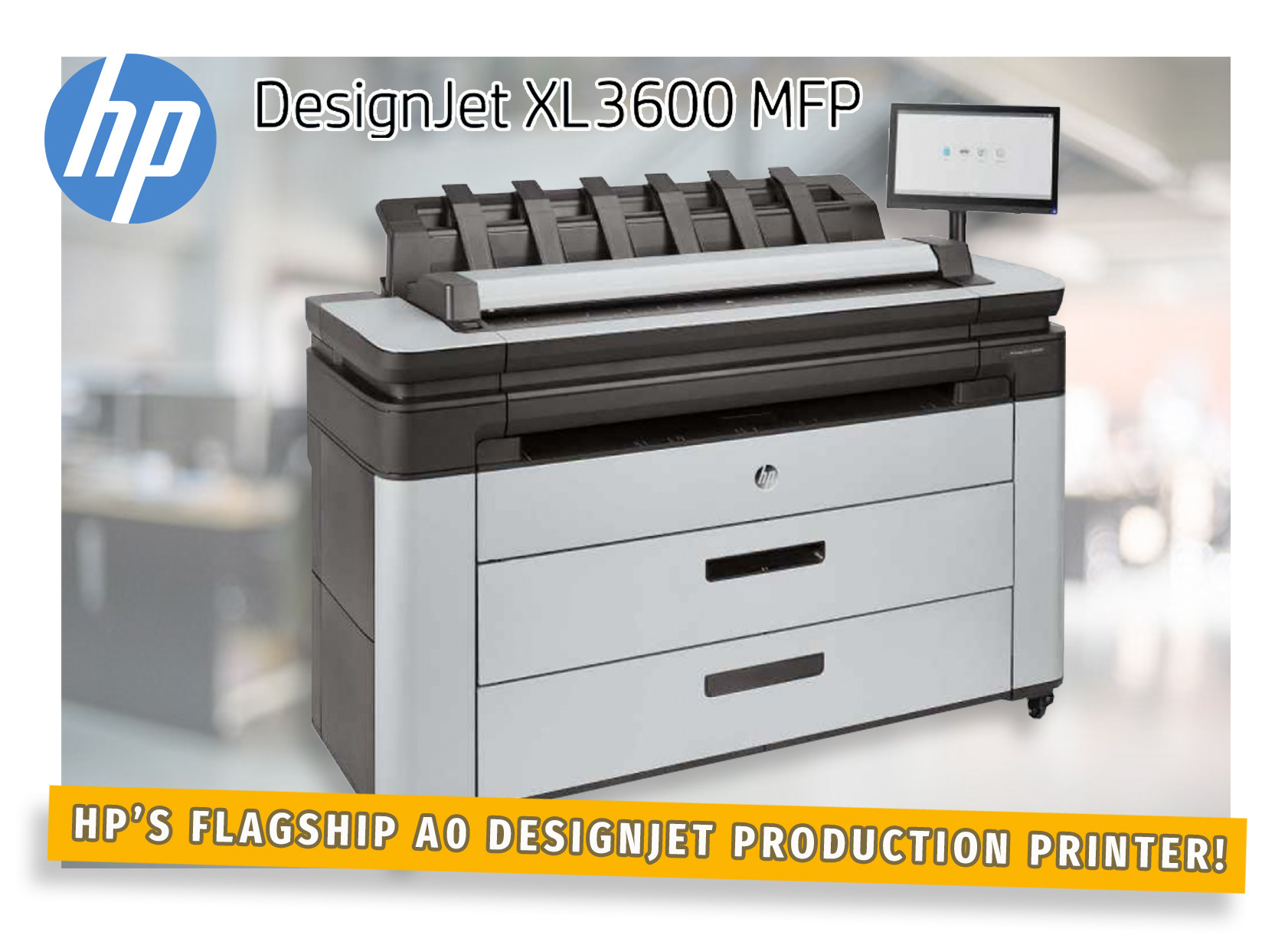 No 10 - HP DesignJet XL3600 | if our report was based on revenue ratio and not unit sales then the XL 3600 would be close to the top of our list as we do sell lots of them, it is HP's flagship DesignJet Product and offers customers a robust printing, copying and scanning facility with enhanced IT security and software tools for large work groups to streamline and monitor their printing needs.
Hugely efficient offering up to 2 175mtr rolls online, 6 colour ink system which includes a Grey ink like our No 2 choice which is ideal for B&W site drawings plus it delivers market leading quality with fine lines and vibrant colours for architectural renders.
This is the only A0 plotter in our line up which offers an optional OEM integrated Folder which cross folds drawings underlining it's productivity targets.
Category - Medium to Large Work Groups | Contact us for Pricing and for ink / service options which can include pay-as-you-go contracts
Notes: prices are indicative only and are correct when this article was published, exchange rates may change the typical UK price and are given for illustration purposes only. Please check individual product pages for up to date pricing & offers.
Ink pricing is based on the best value ink cartridges for each model such as lower cost per ML High capacity units or multi-packs, for example the HP Studio and T630 product are priced on XL 80ML Black single pack and the popular value for money single colour 3 cartridge multi-packs. Some machines are more ink efficient than others so it is not always the case that a like for like comparison of cost per ML is a fair representation of running cost, however pricing is published as a guide to what you can expect to pay for a cartridge.
We have based our results on both the popularity of products purchased by our customers, size of market from manufacturers own data as well as our individual opinion.
Last updated 19/01/2021 this page is updated when new products are launched, or products are discontinued and when we see market changes.