Why use plot-IT?
Est since 1965
Group turnover - £15 million
5 UK offices with over 100 staff
HP Designjet Warranty Provider
Autodesk Gold reseller
Canon Elite Partner
Stratasys - Gold Partner
FREE Delivery and Installation offer on selected Printers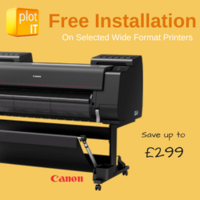 As always Terms and Conditions apply but we are offering a significant discount in the form of FREE Wide-Format Printer Set Up across Mainland UK (exc Scottish Highlands)
Qualifying Products are listed below but include a selection of HP Designjet and Canon imagePROGRAF and PRO Series Photo products.
We will build your machine ready for printing including setting up the stand, the basket and place the machine where you need it, our engineer will load the inks and the FREE roll of media which we always supply with our printers, where possible we will then print a test page from memory. In some instances we will connect to your local PC or to your Network. You'll get some basic training on roll feed and ink change and general maintanance.
We will then remove the packaging from site so you can carry on printing.

Important things to be aware of
Unfortunately due to cost this offer is available to UK mainland only and excludes the Highlands (if you're lucky enough to be in the Highlands then please do drop us a line so we can cater something just for you)
This is not a next day service as we will need to complete a site survey / risk assessment with your help. Please contact us if you need an urgent install otherwise it's typically a maximum of 5-7 days to wait
This offer is for easy access with no parking restrictions, ground floor locations (or where a suitable lift is available) with no steps or tight corridors, however, again please contact us, it's possible one of our own engineers can pop in and check your site prior to order. There must be easy parking (no red routes) with not too far to take the machine with no onerous parking restrictions - again contact us as these things can inevitably be overcome.
Where possible and in most instances we will use a 2 man crew (or more on bigger units) but on smaller units it maybe just a 1 man crew so they may need a hand with lifting the machine - however, if you're unable to do this again let us know
Our Service team have both CHAS and ISO accreditation

Qualifying Products
Canon
Pro Series - PRO-4000, PRO-4000S, PRO-6000, PRO-6000S
TX Series - TX2000, TX3000, TX4000, TX T36 (both 36" or 44")
imagePROGRAF - L36e, L24e, iPF780, iPF785, M40
HP
Designjet Z Series - Z2100, Z5200, Z5600PS, Z5400PS, Z6200, Z6600, Z6800
Designjet T Series - T830 (36"), T2530 Series , T1530, T7200
Latex - 115 and 315 (Standard and Print & Cut)
T&C's - please note this offer is available to end users only and not dealers, it also can be removed at anytime due to demand, as such order as soon as you can!