Why use plot-IT?
Est since 1965
Group turnover - £15 million
5 UK offices with over 100 staff
HP Designjet Warranty Provider
Autodesk Gold reseller
Canon Elite Partner
Stratasys - Gold Partner
Baboosh Designs invest in an EPSON SC-T2100 for sewing pattern production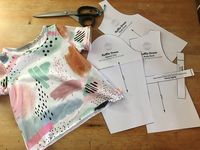 When Frederieke Grange founder of Baboosh Designs an inspirational children's (and Adults) clothes brand contacted our online sales team for advice, we were delighted to navigate her through the world of wide-format printing and the array of printers available.

Having decided upon an EPSON SC-T2100 A1 printer with A3 sheet tray, Frederieke was soon up and running and is thrilled to be going from Design straight to Print, commenting that "possibilities within Baboosh seem endless with the new EPSON Printer!"

Frederieke started Baboosh whilst on maternity leave, working from her dining table in a tiny weavers cottage. Having discovered how quickly babies grow out of their little clothes, she was inspired to design baby clothes that are made for growing! With a focus on Design, sustainability, comfort and practicality with clothing made from GOTS-certified organic cotton fabrics & all dispatched in environmentally friendly paper packaging Baboosh is truly an inspirational small & exciting brand.

Not only will the NEW EPSON SC-T2100 help in the creative process with quick visualisation of designs, it will also be used for production. As Baboosh also retail sewing patterns of Frederiekes' designs, it will be possible to print these off directly from her West Yorkshire base for quick dispatch to home sewers & makers who are inspired by her designs....