Why use plot-IT?
Est since 1965
Group turnover - £15 million
5 UK offices with over 100 staff
HP Designjet Warranty Provider
Autodesk Gold reseller
Canon Elite Partner
Stratasys - Gold Partner
Canon launch NEW Canon imagePROGRAF TX Series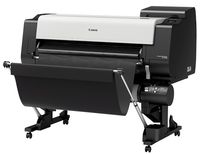 Sept - 2017 - Canon Announce launch of a NEW & exciting line up of wide-format printers to the CAD, GIS and Poster Printing Markets all in a single device.
The NEW canon imagePROGRAF TX-2000 TX-3000 TX-4000 series and T36 scanner offer a combination of 5 different choices of printer or single footprint MFP with the addition of the T36 series scanner to the two wider models in the range.
Unlike other recent launches in to the CAD space the TX series offers a completely new Architecture based upon the highly successful Canon PRO series of Printers launched early in 2016. the unibody rigid design has been borrowed from the automotive market making these machines extremely robust and and ensuring minimal vibration as the head travels whilst printing, guaranteeing print quality is kept to the same high standards that Canon expect from their wide-format devices.
The TX series offers a break away from traditional CAD printing by utilising pigment based inks instead of traditional dye based inks, benefits include more vivid vibrant colour, water resistant prints which are ideal for site drawings in AEC & GIS markets and significantly poster printing applications, as well as light fastness levels you don't find on Dye based systems.
The 5 colour ink system keeps the cost per print down with Intelligent economical Lucia TD ink and the wider than normal print head increases print speed to give you much quicker printing at 3 A1 per minute when most CAD printers only manage 2.
To further increase productivity the TX series also offers an optional second roll feed and both rolls come with automatic media loading for ease of operation along with the ability to take 175 mtr low cost media normally associated with more expensive LED copiers. furthermore, to keep cost low there are 3 ink cartridge sizes available so you can purchase economical large capacity ink in the colours that you use frequently at a lower cost per ML.
Three choices of printer are avialble the TX-2000 A1 / 24", the TX-3000 36" and the TX-4000 44" width, with the TX-3 and TX-4 having the bailty be supplied as an MFP with the Canon T36 scanner which sits directly on top of the machine and supplied with an all-in-one touch screen monitor controller resulting in a new neat single footprint machine with no unsightly wires which can copy and scan to multiple locations all your wide-format needs.
Finally the new TX platform comes with a full set of security features that provides a step up in security for corporate and government needs.