Why use plot-IT?
Est since 1965
Group turnover - £15 million
5 UK offices with over 100 staff
HP Designjet Warranty Provider
Autodesk Gold reseller
Canon Elite Partner
Stratasys - Gold Partner
MakerBot Replicator Desktop 3D printer wins Red Dot Design Award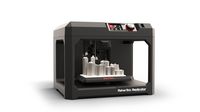 MakerBot Replicator is among the winners chose out of almost 5,000 entries for the Red Dot Award for product design. The fifth generation Replicator provides the easiest and most versatile way to get from 3D model to 3D print.
It joins the ranks of other Red Dot winners such as the Apple iPhone (2008) and the BMW i8 (2014). "This 3D printer features an inspiring, open design. Its clean aesthetics blend perfectly into professional and educational environments, as well as the home," stated the Red Dot jury.

When designing new products, MakerBot focuses on ease of use and how the product fits into peoples lives. "We wanted to create a desktop 3D printer that was friendly, accessible and invites individuals, whether a 5th grader or a professional engineer, to engage and quickly turn around an idea into a physical object," said Yuri Salnikoff, Chief Marketing Officer of MakerBot. "The MakerBot Replicator provides direct access in the work area and empowers educators, designers and engineers to unleash their creativity

The MakerBot Replicator is supported by the MakerBot 3D Ecosystem, a growing, synergetic eco-system of products, materials, software, accessories, services and content that integrate seamlessly with each other to make 3D printing more accessible for everyone. the MakerBot 3D eco-system includes MakerBot desktop software for preparing prints, the MakerBot Mobile app with cloud platform to initiate and monitor prints remotely, and MakerBot Thingiverse, the world's largest 3D design community.
The MakerBot Replicator Smart Extruder is a ground-breaking innovation that minimises printing downtime by enabling users to swap a worn extruder in minutes. The Smart Extruder also allows users to adapt quickly to new innovations in the evolving world of 3D printing. When MakerBot introduces new materials like MakerBot composite PLA, customers will be able to purchase a Smart Extruder to handle the new filament, instead of having to buy an entirely new printer.

The Red Dot Award was created in 1954 to recognise products with the highest quality of design. A panel of leading design experts convenes every year to evaluate products based on specific criteria: from physical characteristics such as durability, functionality, ergonomics, ecological compatibility and formal quality to abstract traits such as innovation, symbolic and emotional content, product periphery and self-explanatory quality. These latter criteria consider the way users interact with the product and the emotions they invoke. The international Red Dot jury bestows the sought-after-seal of quality only to products that stand out thanks to their excellent design.