Why use plot-IT?
Est since 1965
Group turnover - £15 million
5 UK offices with over 100 staff
HP Designjet Warranty Provider
Autodesk Gold reseller
Canon Elite Partner
Stratasys - Gold Partner
Canon: Did you know...?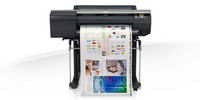 As well as printing onto a huge variety of roll and cut sheet papers, the 12 colour, 24" Canon iPF6400 can also print onto rigid boards up to 1.5mm thick using its dedicated front feed.
This feature is great for photographers and print shops alike, in fact anyone who want to print directly to substrate to save valuable time mounting and finishing.